Making the choice to receive a dental implant is a great life investment. Dental implants currently sit at the brink of modern dental technology as being the healthiest and most durable option for replacing missing teeth. Of course, as with any big life decision, there are steps that must be taken in order to see that decision through. In the case of deciding to undergo dental implant treatment, the next step is choosing a dental implant provider.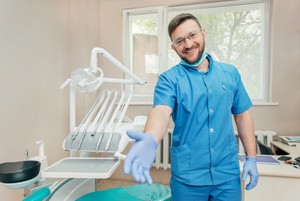 This is where many people become overwhelmed. You may find yourself asking various questions like "Where do I start?" and "How do I know if this dentist is the right one for me?" Well, fear not, we have decided to put together a checklist that may help aid you in the search for a dental implants provider. Regardless of whether that dental implants provider ends up being a quality dentist, we want you to be the happiest you can be with your final decision.
Ask The Right Questions
The first thing that needs to be covered in your search for a dental implant provider is your right to ask questions. If at any time the dental implant provider you are talking to makes you feel uncomfortable for asking questions then we suggest looking elsewhere. If you aren't sure which questions you should be asking then here are a few sample questions that you should feel free to use.
What kind of training has the dentist received?
This is an excellent question and one that any dental implant provider should be happy to answer. In fact, most dental implant providers will have some information about where they received their training right on their website.
For instance, after receiving his bachelor's degree at Florida State University, our quality dentist went on to continue his studies at Columbia University and then NSU's College of Dental Medicine where he received his Dental Medicine Doctorate. He then gravitated toward Oral and Maxillofacial surgery early on and completed a prestigious OMFS internship at Jackson Memorial Hospital in Miami, FL. There he gained the skill sets which allow him to perform various advanced dentoalveolar procedures. Some of those procedures are dental implant placement, bone grafting, and sinus augmentation.
How long will the entire dental implants process take?
This is yet another great question that should be answered during your private consultation with the dental implant provider. However, if you can't wait until then and really want to know more about the time needed to complete treatment, please visit our dental implants process page.
Are there any before and after pictures of the dentist's work I can see?
Any decent dentist should have pictures of his work at the ready to display. A quality dentist thinks of placing a dental implant like completing a piece of art. He is very proud of his work, so if you would like to see some of our before and after pictures, please feel free to ask!
How many successful dental implant cases has the dentist completed?
Now, not every dentist will be able to provide you with an exact number to answer this question, however, it is still a good question to ask. Most dentists will be able to provide you with a rough number of successful restoration cases if they are asked.
There are a number of other questions you should feel free to ask any dental implant provider. However, we sincerely hope that these sample questions help lead you in the right direction. If that direction happens to be pointing toward a quality dentist then we can assure you that you are on the right track for dental implant success. Welcome to the family!