Missing or damaged teeth are not just a minor inconvenience. According to many Austin dental implant specialists, poor oral health has recently been linked to serious health issues like; diabetes, osteoporosis, heart disease, endocarditis, cardiovascular disease, low birth weight, premature birth and Alzheimer's. Other problems that dental implant patients experience are; anxiety, depression, trouble eating, damage to surrounding teeth, mouth infections and gum disease. Some of the more obvious and visible issues can include decreased bite strength, sunken facial features, jawbone deterioration, jaw muscle atrophy and unattractive wrinkles around the mouth. Consequently, it is apparent that taking good care of your teeth can be a catalyst for both excellent oral and great overall health.
What are Dental Implants?
Half of all Americans are missing one or multiple teeth. This shows that missing or damaged teeth are a major problem for the majority of the population. However, missing teeth can create many challenges besides just the obvious aesthetic issues. Spaces between teeth trap food and attract bacteria causing tooth decay and bad breath. If left untreated, they can ultimately cause jawbone deterioration, muscle atrophy, and a wrinkled facial appearance.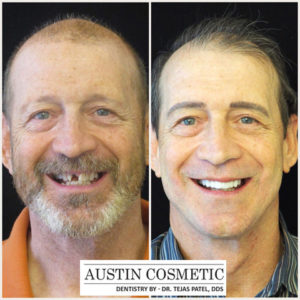 Even more concerning, poor oral health has been linked with many serious health problems like heart disease, osteoporosis, diabetes and Alzheimer's, to name a few. Luckily, dental implants can help prevent or reverse these conditions and give you a beautiful and functional smile once more.  With many amazing benefits, dental implants have quickly become the standard of care in tooth replacement treatments.
Texas Dental Implants 101
A dental implant is comprised of three basic parts: a fixture, an abutment, and a crown. These three parts heal to create a natural-looking replacement tooth that can last a lifetime when cared for properly. Here is a bit more detail about each of the pieces:
The fixture.
A fixture is an artificial titanium tooth root that is surgically implanted into the patient's jawbone. Titanium is used because it is biocompatible and jawbone can naturally integrate with the dental implant surface. This piece is the strong and solid foundation of the implant when it is healed.
The abutment.
The abutment is a connector piece between the fixture (artificial tooth root) and the crown (replacement tooth). As the middle piece, it covers the fixture and provides a piece above the gum line for the artificial tooth to rest on. This piece is also critical in keeping the replacement tooth firmly in place.
The crown.
The crown is your new, natural-looking replacement tooth and the last piece installed during the dental implant process. Dr. Fenton uses years of education and experience to ensure that your crown perfectly blends in with your natural teeth. After final placement, your new replacement tooth will be functional, durable and beautiful!
Still, want to know more about the process? Call our office today and schedule a free dental implants consultation. Our wonderful staff is standing by to help you with any questions you may have.
Texas Dental Implant Costs
| Procedure | Average Cost | Description | Notes |
| --- | --- | --- | --- |
| Single Implant | $4263 | One implant with abutement and crown | extractions, bone grafts, tissue grafts or a sinus lift at an additional cost as needed |
| 2-6 Implants – Bridge | $8489 | 2-6 implants with partial or full-bridge | cost varies depending on # of implants, bridge size & materials |
| 2-6 implants – Dentures | $14,226 | 2-6 implants with denture plate (removable) | cost depends on kind of implants, denture materials, additional procedures needed |
| All on 4 Implants | $33,500 | 4 titanium dental implants to anchor the upper and lower jaw | same as above |
Best Dental Implant Reviews
Here are just a few resources to use for your research in finding the best Austin dental implant dentist. Keep in mind that not every dentist is qualified or had experienced in the implant procedure. Do your research!
10 Best Austin Dental Implants Dentists https://t.co/yoN42SWgxi

— Best Dentist Guide (@bestdentistguid) May 17, 2019
Caring For Your Dental Implants
Because they require no extra care, dental implants help patients maintain a normal hygiene routine. Dentures and dental bridges require extra care, expensive products and special appointments with dental providers. Dental implants can be cared for just as you would your natural teeth. Moreover, if you brush and floss your dental implants normally, they can last for many decades to come.
Top 13 Austin Dental Implant Dentist & Periodontists
a. Austin Cosmetic Dentistry by Tejas Patel, DDS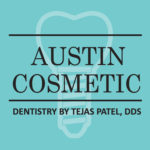 Cosmetic Dentist, Tejas Patel, is located in picturesque downtown Austin and focuses primarily on Smile Makeovers, Veneers, and Dental Implants. Call (512) 476-2336 for a free consultation. Virtual surgery is performed on a computer to plan exactly what size, position, depth, and angulation your implant should be.  This virtual environment helps determine if you need or would benefit from any bone or gum grafting before or during implant placement. -austincosmetic.com
b. Austin Dental Spa
A missing tooth is more than a simple cosmetic annoyance. The gaps created by missing teeth can invite bacteria and infection, can compromise a patient's ability to eat and speak correctly, and can allow adjacent teeth to shift their positioning. If you are missing a tooth or teeth, it is important to fill the gap to prevent further damage to your mouth. Dental implants maintained by Austin Dental Spa are a superb restorative dentistry solution for our patients who are missing one or a number of teeth and would like worry-free restorations. Unlike full or partial dentures, dental implants are permanently fixed in the mouth. -austindentalspa.com
c. Austin Dental Implant Center
Known as the leader in the New Teeth in a Day procedure, this cutting-edge treatment makes it possible for most patients to receive dental implants and fixed-in new teeth. From our high-tech 3D X-rays to the latest in Guided Implant Surgery, we do everything you need right here at the Austin Dental Implant Center. Even your implant crowns are prepared in our high-tech lab. This makes it easy for us to adjust your crown so that it fits perfectly and matches your smile exactly. -austindentalimplantcenter.com
d. Austin Oral Surgery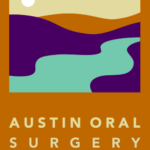 With Austin Oral Surgery's 45 year history of providing superior, individualized care to Central Texans, you can be assured that you and your family will receive the finest diagnostic, surgical and post-operative care. For over 30 years, dental implants have been changing lives. Designed to provide a foundation for replacement teeth that look, feel and function like natural teeth, dental implants allow patients to laugh, speak, and smile with confidence. With dental implants, a person who has lost teeth regains the ability to eat virtually anything, knowing that teeth appear natural and that facial contours will be preserved. -austinoralsurgery.com
e. Smiles by Garcia
The NEW SMILE Procedure Dental Implants and permanently secured teeth in just one procedure with the amazing NEW SMILE solution at Smiles By Garcia! During the New Smile procedure, we remove your failing and damaged teeth and eliminate any gum infections. We then place 4 to 6 Dental implants to tightly hold an entirely new set of beautiful teeth. You will leave that day with a beautiful, healthy, and natural-looking, fully functional New Smile. -smilesbygarcia.com
f. Austin Laser Dentist
Dr. Ragsdale is committed to providing the highest quality dental care to every one of her patients. Implant dentistry is the perfect way for her to help you rebuild your smile. For a permanent tooth replacement solution, call our office today and see how we can help you attain a beautiful white smile without compromising your lifestyle. If you searched for Austin Dental Implants or Dental Implants Austin, you found the right place. We have placed and restored missing teeth with dental implants for thousands of our patients for over 25 years. Please read this page to learn more about dental implants. -austinlaserdentist.com
g. Austin Smile Center
Dental implants are often used to replace teeth when root canals go bad. Sometimes a root-canaled tooth will break off at the gum line, or sometimes root-canaled teeth just stop working the way they should. In Austin and Cedar Park, dental implants for tooth replacement can keep you smiling and chewing as you should. Dr. Greg Watson wants to be Austin's best source for dental implants. Missing teeth can make smiling embarrassing. Missing teeth can also make it difficult to chew and may cause problems with your TMJ (jaw joint). It is important to fill any spaces between your teeth to maintain your smile and to keep your chewing balanced. -austinsmilecenter.com
h. Austin Dental Care

At Austin Dental Care, we can restore your smile to its former shine by setting you up with professional dental implants. Don't be ashamed if your smile has some gaps. Losing teeth can happen as a part of life, but that does not mean you have to keep it that way. Today, it is simpler than ever to get high-quality dental implants that look and work as well as your originals. We make it our mission at Austin Dental Care to provide you with permanent, functional and natural-looking dental implants. After a procedure with us, you will not feel the need to hide your smile anymore, and your teeth will be healthier for it. Each implant will fit, feel, and work just like your regular teeth, ensuring that your mouth is restored to normal function. -austindentalcare.com
i. Access Dental

Dental implants are posts inserted below the gum lines to mimic the natural function of tooth roots. In most cases, we craft dental implants from titanium, but implant posts can be crafted from a variety of materials, including zirconia. In addition to recreating the natural function of your smile for improved stability, dental implants also stimulate the supportive structures of your teeth to maintain healthy jawbone density and gum tissue volume. -accessdental-tx.com
j. Austin Dental Center, PC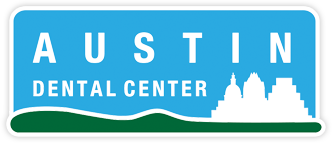 Teeth may be lost for a variety of reasons, whether through trauma or a health issue with that particular tooth or teeth. Removable bridges and partial or full dentures are all viable ways to regain the function and beautiful appearance of your teeth. However, many people feel that dental implants provide the most comfortable and natural feel. Dental implants are highly successful and offer a great way to both enhance the appearance of your teeth and to preserve the health of your entire mouth. Having missing teeth is commonly a source of embarrassment, but with implants, no one has to know you were missing a tooth. And best of all you might just forget about it yourself because dental implants look and feel so natural. -smileaustin.com
k. New Teeth New Smile

For many in Austin, dental implants seem like they are out of reach financially. However, there are actually many options available for financing your dental implant procedure. No matter your credit or financial situation, our Austin dental implant financing consultants may be able to get the costs of your implants down to an affordable monthly payment. We can help you decide which financial plan is going to work best for your specific situation. There are options ranging from no interest for 6 or 12 months to longer-term options that further reduce the monthly expense. We believe that money should not be the key deciding factor in your dental health and will do everything we can to help you find the best solution. -newteethnewsmile.net
l. Hedgecock Dental

If you're suffering from missing teeth or ill-fitting dentures, you understand the impact it can have on your daily quality of life, not to mention your self-esteem. It can be difficult to enjoy your favorite foods and to speak and smile with confidence. But did you know there may be other things happening under the surface if missing teeth are left missing? Thankfully, your Austin dentists at Hedgecock Dental can surgically place and restore dental implants right here from the comfort of your dental home! -hedgecockdental.com
m. Affordable Dentures & Implants
Dental implants offer a long-lasting replacement for missing teeth. Here at Affordable Dentures® in Austin, TX, we're pleased to offer a wide range of solutions for our implant patients including restorations with a single tooth implant or with an implant-supported snap-in or fixed denture. Since 2001, we've served the Austin area and our caring staff is ready to help you restore your youthful appearance and give you good reason to smile with our Affordable Implants®. Give us a call today to request your appointment. We're conveniently opened at 7:45 a.m. Monday through Friday. -affordabledentures.com
n. ClearChoice Austin
ClearChoice Dental Implants Austin is located in Greystone Plaza on N. MoPac Expressway. We have established a patient-focused, all-in-one center right here in Austin to provide you with new beautiful dental implants in just one day. Our team of specialists looks forward to working with you and sharing their expertise. At ClearChoice, your entire dental team, the lab, and your support staff are together in the same center. This approach is not only highly efficient, but it also allows your team to be extremely collaborative. The result? A better treatment plan for our patients. -clearchoice.com